We're starting off the month by introducing MOA's new "MOA Member Farm Feature" blog series, showcasing local Missouri farms! Our goal is to connect consumers across Missouri with farms that are doing incredible things right here in our own state!
This month's farm feature is Nick Schlotzhauer with Creekside Farms, LLC! Nick is a Missouri Organic Association board member and serves as the board's Treasurer.  We are so grateful for his support for MOA's mission. Creekside Farms, LLC is a beautiful farm located in Hartsburg, Missouri.
Nick volunteered his time to answer a few questions about his farm here in Central Missouri and how we can be supporting local farmers throughout these challenging times.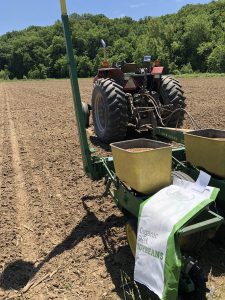 How long have you been farming?
This will be my eighth year that I have been farming organically.
What is your farm's main focus?
My main focus is farming grain crops, which include corn, soybeans, and wheat. 
What are one or two important organic and sustainable practices that you use on your farm?
Some of the sustainable practices that I use on the farm are using cover crops and chicken litter to help build the soil health and fertilize. I also use a crop rotation for weed control and soil health. 
What advice would you give to beginner farmers?
The advice I would give to anyone starting out is to find one or two people in the organic farming world that are doing a very good job farming. They can mentor you and give you advice and lift your spirits when things aren't going as planned. Farming is hard and there will be problems so having someone to talk to that has experience can really help. 
What can people do to support farmers throughout and after this pandemic?
I would say what people can do to help the farmer during the pandemic is to just keep doing what they were doing. Organic markets were growing at a rapid pace and as long as people keep buying organic and eating clean, the organic market will continue to be strong.
We are so happy to shine light on local farms and farmers around the state!
For more ways to connect with local farmers in Missouri become a member of the Missouri Organic Association and join us for MOA's annual Mid-America Organic Conference!
The 2021 conference will be held Thursday, February 4th through Saturday, February 6th, 2021. Check out the 2020 Conference Recap to learn more!
Are you interested in being chosen as MOA's next Farm Feature?
Email Missouri Organic Association's Digital Marketer, Maggie Rotts, at maggie@moaorganic.org with the name and a picture of your farm. We'll reach out to our choices for further details!