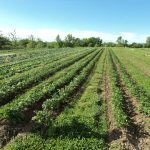 Fund Your Farm Field Day at Fair Share Farm
August 15, 2023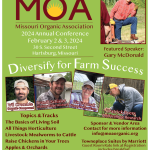 2024 MOA Conference
October 6, 2023
Fall Forest Farming Workshop
$0.00
Saturday, November 11th, 2023
2:00 p.m. – 4:00 p.m.
Forest Farming Workshop  | 40 S. Second St., Hartsburg, MO 65039
Are you a landowner or producer blessed with a patch of Missouri Wilderness? Looking to add additional streams of farm income while ensuring future generations have access to native forest edibles and medicinal herbs?
Grow your knowledge of forest farming to support greater farm diversity and enhance our shared ecosystem by joining our Forest Farming Beginners Workshop, Sat Nov 11th at 2 pm central time. Presentations will cover an overview of a successful forest farming operation and discuss market opportunities, including considerations for organic certification.
–
Class size is limited to 25 participants and grant supported by the USDA-NRCS. Pre-registration is free but a suggested donation of $10-20 at check in helps support refreshments and future programs. Please let us know if you preregister and won't be able to make it  so we can offer your space to another potential forest farmer.
–
Featured Presenters:
Dr. Sougata Bardhan
, Assistant Professor of 
Forestry & Natural Resource Management at Lincoln University
, a historically black 1890 land grant university in Jefferson City Missouri. Dr. Bardhan is trained as a soil microbial ecologist and obtained significant experience investigating the ecological impact of land-use practices and plant community influence in Missouri River Floodplain.
Dennis Lindberg
, Owner of 
Ozark Mountain Ginseng
, a family farm nestled in the Ozark Hills along Eleven Point River in southern Missouri, growing American Ginseng and other Medicinal Herbs since 1983.
Sue Baird of SueBaird Organics, LLC, Organic consultant and former committee member of the National Organic Standards Board.
---
Stick around afterwards for MOA's Fall Potluck immediately following the workshop, featuring special guests Dr. Nadia Navarrete-Tindall, Native Plants Specialist & Michelle La Fata, Chef Owner of Pasta La Fata. Educational resources on native plants and farm funding opportunities will be on hand. Potluckers are encouraged to incorporate at least one Missouri Native Edible into their dish but no foods or folks are turned away! Potluck concludes with the screening of a short film series "Lives We Weave" featuring food culture from the tribes of Ottawa County, Oklahoma.
---
Venue: The Hartsburg Grand
30 S. 2nd Street, Hartsburg, MO 65039
Join us at MOA Headquarters
40 South Second Street, Hartsburg, MO 65039
Event Details
Date: November 11, 2023
Start time: 02:00 p.m. CST
End time: 04:00 p.m. CST
Venue: Hartsburg Grand Station | 40 S. Second St., Hartsburg, MO 65039
Coordinates: 38.69477538138806, -92.30873515424675
Phone: (573) 657-5555
Email: info@moaorganic.org